One of the most popular and most viewed soccer events is going on in Russia with 32 teams participating. FIFA World Cup 2018 is a global event filled with lot of action and tons of emotions. It's like crazy madness that comes every four years and involves people from around the world. Let us look at some of the developments so far:
4 times world cup winner Italy didn't quality for this world cup
3 times world cup runners-up Netherlands didn't quality for this world cup
Defending champion and 4 times world cup winner Germany eliminated at group stage
2 times world cup winner Argentina knocked out in pre-quarter finals (round of 16)
With this is mind, it's time to start making a pick for who's going to win the FIFA World Cup Trophy on 15th July 2018. The event is in the quarter-finals stage and 24 teams already eliminated from the event. All eyes are now set on the quarter-finals.
I applied a simple ELO rating system to predict the winners of the quarter-finals. The initial ranking of the teams is calculated using the group stage performance (based on win%, goals scored, goals conceded, points scored, and goal difference) and then this ranking is used to make predictions for the pre-quarterfinals (though a bit late, I am still taking the privilege of sharing the pre-quarter finals predictions).
Next, based on the actual outcome of the pre-quarter finals and the predicted outcome, the initial rankings of the teams is revised and used for making predictions for the quarter-finals.
Predictions for the Pre-Quarter Finals (Round of 16)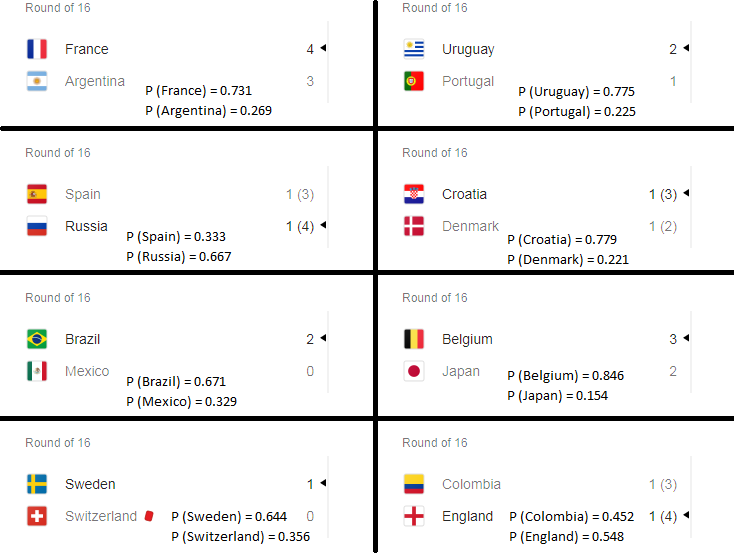 Predictions for the Quarter FinalsThe probability of each team winning the quarter-finals match is shown below. It looks like Uruguay, Belgium, England, and Croatia are the favorites to play the semi-finals